Course details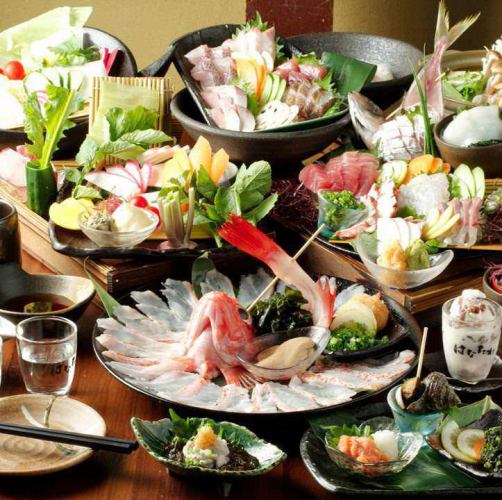 Reasonable fish for high class! High class course all 9 items 5800 yen 2 h with all you can drink 7960 yen ⇒ 6999 yen !!
By using a coupon6999 yen
(Tax included) + 1620 yen with free drinks available coupon use 7960 yen ⇒ 6999 yen !!
High class course only for dishes with phantom luxury fish included! In addition to the famous morning capture "Shonan live shita", plus the phantom luxury fish fishing kinugi shabu shabu.In addition, a menu using this qua that is a phantom luxury fish is also prepared.It is content that you can enjoy fish dishes boasting of pride.
Course menu
· Now is the season! Raw warm horses wounded
· Mr. Yamamaru sent directly! In the morning which Shonan living
※ If there is no landing frying shipper
· Hara dumplings from Himeji Hyogo Prefecture and salad with shiitake fried shrimp
· Hokkaido extra-large scale! Buckwheat shrimp making braid 5 pcs
· 2 kinds of making of Kuromen Snapper
· Tempura with active abalone and Japanese chrysanthemum
· Tonloomu Kinmeaki White Shabu Shabu
· Tsukuro-kinen sea bream's umami taste plenty of cooked dishes
· Seasonal dessert
■ Each course + all you can drink
90 minutes with plus 1620 yen (tax included)
Plus 2160 yen (tax included) in 120 minutes
※ Additional 10 drinks of sake for 10 yen at + 540 yen
※ Last order 20 minutes ago will be the last order.
Reservation deadline

Until 23 o'clock the day before the store visit date
Available days for reservation

Monday - Sunday - Public holidays - Holidays
2018/12/27 update