DETAIL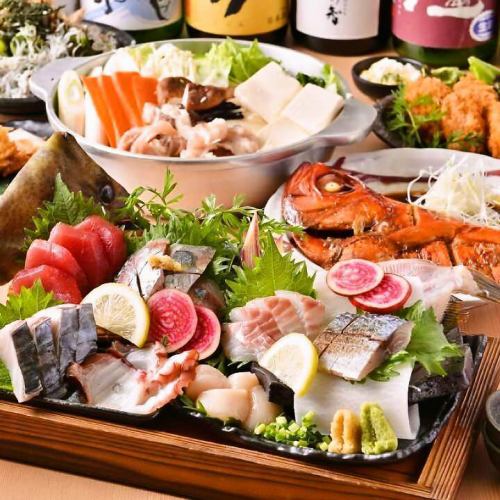 Honorable with the taste of spring! Specialty Kimome Kimome Seafood & Sashimi & Pot 4500 yen Course 2 h with all you can drink course ⇒ 5000 yen ♪
By using a coupon5000 Yen
(Tax included) + 1620 yen for free drinks possible (90 minutes) 6620 yen for coupon use ⇒ 5000 yen (120 minutes)
A popular course that includes our "boiled eagle boiled eggs"! Freshly prepared pre-fish dishes such as fresh "Shonan live shita" and "Seasonal fish fish sashimi 7 point prime" You can taste it.In addition, during this cold weather period, we also have a warm pot to serve you! We are able to enjoy fish dishes boasted to the best of all.
Menu
· Sakurabo starch fish paste deep-fried grilled
· Mr. Yamamaru sent directly! In the morning which Shonan living
※ If there is no landing frying shipper
· Kujo Onega, Ayame Kabu, Shonan Frying Shrimp Salad
· Seasonal ground fish! Seven sashimi platter assorted
· Hiroshima prefecture Setouchi large grain! Kakifly ~ homemade tartar sauce ~
· Choshi Chiba prefecture whole whole dromeda bamboo boiled
· Honesty special products! Eat hot pot with white pot soup
· Delicious plenty of delicious hot pot!
Seasonal dessert
■ Each course + all you can drink
90 minutes with plus 1620 yen (tax included)
Plus 2160 yen (tax included) in 120 minutes
※ Additional 10 drinks of sake for 10 yen at + 540 yen
※ Last order 20 minutes ago will be the last order.
Reservation deadline

Visit of hope the day before until 23:00
Coupon that can be used
【Course over 2900 yen】 Hot Pepper Limited ★
2H → 3H Extension of all-you-can-eat Normally +1000
OK for + 500 yen !!

Presentation conditions

At reservation & when entering ※ As I saw the hot pepper

Conditions of use

※ Please tell me that you saw the hot pepper! / 150 minutes change to unlimited drinks

Expiration date

Until the end of March 2018

All you can drink 50 Japanese sake 50 drinks at + \ 1000!

Presentation conditions

At the time of booking and when visiting

Conditions of use

Limited to customers who booked for the above course / Basic reservation required./ Number of people change until 1 business day before / subject to reservation more than 2 people / subject for course of 5000 yen or more

Expiration date

April 28, 2018
2018/03/22 update